CMS Customization
We, atWorddss Infotech, often emphasize on suitable CMS customization solutions with researches, tools, and techniques. Our expert solutions not just update the product information on your portal regularly, but also integrate third party solutions and can be customized as per your requirement. With the help of our CMS customization solution, you can automate your content collection as well as the delivery.
---

WordPress Customization
Worddss Infotech are specialized for WP Theme Customization as well as Custom WP developments.

Joomla Customization
Worddss Infotech provide you a professional Joomla template customization service for your online site using the latest technologies.

Magento Customization
Worddss Infotech offer custom Magento development and Magento theme customization services to help you create a robust e-commerce store.

OpenCart Customization
OpenCart development services offered by Worddss Infotech include all the core service areas of OpenCart.

OsCommerce Customization
Worddss Infotech specialize in delivering OsCommerce store and trading solutions implementing the latest technologies and tools.

Drupal Customization
Worddss Infotech is dedicated to offer best solutions and deliver effective, easily manageable and cost-effective Drupal solutions.

Cake PHP Customization
Worddss Infotech offers affordable Cake PHP development services that you can use for your website development and provide yourself with an efficient website.

Other CMS Customization
The team at Worddss Infotech help in open source customization of different products to suit your needs by creating/designing templates.
---
CMS Features
Easy Administration
The Admin dashboard is the hear of any CMS and it should make it easy to manage all the tasks involved in content production.
Great Publishing Tools
Just as the content you publish is the backbone of your interaction with your key customers and audience, publishing tools are the core of any CMS.
Analytics
Tracking what's happening with your content in terms of views, shares and navigating your site is an essential part of carrying out your content strategy.
Built-In SEO Tools
Google is always tweaking its search algorithms, most recently with the Hummingbird semantic search update.
Social Media Integration
Social media sites remain hugely popular. That's why any modern CMS must take account of social tools.
Support for mobile devices
Whether you want to go with a mobile responsive Web design or a separate mobile website, your CMS should be able to support both approaches.
---
About Our CMS Web Development Services :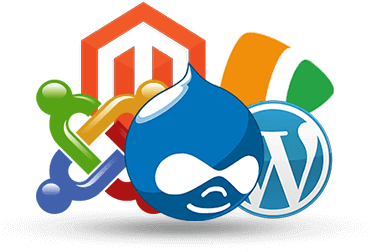 A content management system (CMS) is a computer software system for organizing and facilitating collaborative creation of documents and other content.A content management system is frequently a web application used for managing websites and web content. It allows you to control and manage the content within your web site – without technical training. It Improve communication between users and the website.As we know that content is the king of the website to make it interactive and powerful we use CMS. CMS totally separates the content of the pages from their graphical design. This makes it easy to keep the site-wide design coherent and easy to change. It also makes adding content easy for non-technical people,experience with HTML or web site design. It also reduces the calls to your web design agency or IT department for changes to the web site. CMS reduces the time required to publish, allowing you to get your content on-line faster. This is a very important issue for any professional web site.. Modern CMSs are usually defined by their capability to manage and publish content. They typically have Workflow processes that start at content creation and move to publishing. Most do far more: They have the capability to add on a wide range of extensions or add-ons to give the site more functionality. Dynamic web pages are what are created by a CMS. A CMS makes the pages dynamic. They don't really exist until you follow a link to view them. This means that they can be updated/customized based on the viewer's interactions with the page. Security is an important issue, particularly for Internet. A CMS can facilitate better content security. It can control who is allowed to publish to the website, and who is allowed to see what content. Without a CMS, what often happens is that there is a publishing free-for-all. The content quality is not properly monitored and becomes inconsistent. With our comprehensive range of CMS web development services, you manage your business more efficiently than ever. Instant access to information means quicker modifications, better Workflow and increased productivity. Our CMS development solutions for your simple to complex needs give your business an enviable edge over its competitors.
Unique features of our CMS web development services are:
WYSIWYG Editor
Admin Management
Customer Management
Edit, Add or Delete pages
Edit, Add or Delete albums
Edit, Add, Delete articles
Worddss Infotech CMS development solutions help you:
manage multiple websites simultaneously
meet diverse content management needs with ease
streamline your business process
---
- Contact Us
We cater to all the web based needs of our clients with powerful web solutions right from the conception to the completion of the project.
Our Location
3rd Floor Aditya City Center, Ashiana-Digha Road, Above 9to9 SuperMarket, Patna, Bihar - 800025
- Write Us